Cuisine
Market-fresh , Mediterranean
Address
València, 199
Opening time
1pm-4pm / 8pm-11.30pm
Closes
Sunday and Monday evening
Holidays
2 weeks in August
Services


A light and airy space where Adelf Morales combines the flavours of Mediterranean and Japanese cuisine. A wide variety of rice dishes served in cast-iron pots. Topik also serves T-bone steak from Normandy and sirloin from Girona.

Restaurant of the day
From a selection of the city's top restaurants, here's today's special recommendation. Bon appétit!
LA TERRASSA DEL DO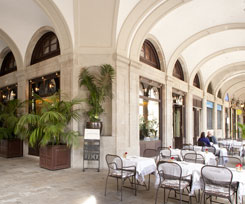 Products at a discount
10%

10%

10%

10%

10%

10%

10%

10%

10%

10%